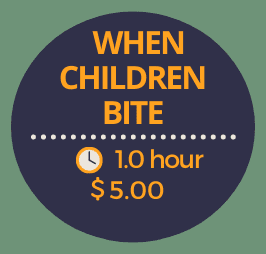 When Children Bite
If you are employed in a state that uses a registry to track professional development hours, you will be able to provide your registry ID (Stars, MOPID, Registry or other ECE ID#) after you have completed the quiz for the course. If you pass the quiz we will report your course completion to the state registry using the registry ID that you provide.
This course helps early childhood educators understand, prevent and respond to a very difficult behavior. When children bite, it is upsetting to the child that gets bitten, the biter and both families.
Course length – 1.0 hour.
This course helps answer the following questions:
Why do children bite?

How can we prevent biting?

What should we do for the child that was bitten when it happens?

What should we do for the biter when it happens?

What is important NOT to do?

How do we talk to the families?
Participants who successfully complete this course will:
Understand why children bite.

Obtain the skills to prevent children from biting.

Techniques to deal with children after a biting has happened.
Proceed To Shopping Cart