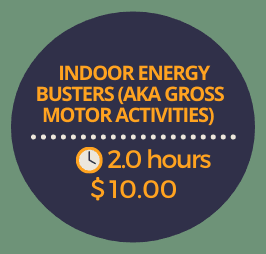 Indoor Energy Busters (AKA Gross Motor Activities)
If you are employed in a state that uses a registry to track professional development hours, you will be able to provide your registry ID (Stars, MOPID, Registry or other ECE ID#) after you have completed the quiz for the course. If you pass the quiz we will report your course completion to the state registry using the registry ID that you provide.
This course explains the importance of keeping gross motor a part of your everyday routine even on days when you cannot get outside due to weather or scheduling conflicts. Course length – 2.0 hours.
The course will help answer the following questions:
What is gross motor?

Why is gross motor important?

How does gross motor affect everyday living?

What are the gross motor milestones in early childhood?

What kinds of indoor activities can we do for gross motor?
Participants who successfully complete this course will:
Understand what gross motor development means.

Comprehend why gross motor development is important.

Be able to facilitate gross motor activities indoors with their age group.
Proceed To Shopping Cart