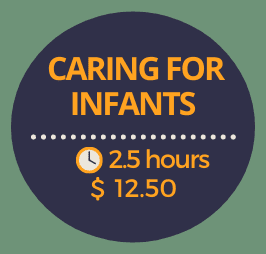 Caring for Infants
If you are employed in a state that uses a registry to track professional development hours, you will be able to provide your registry ID (Stars, MOPID, Registry or other ECE ID#) after you have completed the quiz for the course. If you pass the quiz we will report your course completion to the state registry using the registry ID that you provide.
This course provides the information you need to give safe and effective care to infants. There are many things to consider when you will be caring for infants and each is important to the children's health, safety and development.
Course length – 2.5 hours.
The course helps answer the following questions:
What is the difference between cleaning and sanitizing?

What methods should be used for safe infant sleeping?

What are proper hygiene practices in the infant center?

What are proper diapering procedures?

What milestones should I be watching for during these months?

What are some great tips to help throughout your day?

What are some activities I can do with infants?
Participants who successfully complete this course will:
Comprehend the importance of cleaning and sanitizing and learn proper procedures for doing so.

Understand the CDC's procedures for safe sleep and the dangers of not following them.

Be able to plan and implement developmentally appropriate activities for the infants in their care.
Proceed To Shopping Cart