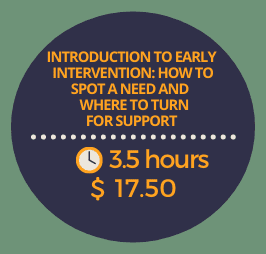 Introduction to Early Intervention: How to Spot a Need and Where to Turn for Support
One of the most crucial time periods for learning and development in a child's life is from birth to the age of 5. Because 90% of the brain develops during this time, children are meeting new milestones almost every day. But what happens if we notice a child isn't meeting their developmental milestones? How do we spot a need and who do we turn to for support? In this course, participants will learn how to track a child's development and what steps they should take for obtaining support. We will discuss methods and tools that can be used both in the classroom and shared with parents. Course Length – 3.5 hours
The course will help answer the following questions:
How do I know if a child isn't meeting developmental milestones?

Who should I talk to if I notice a developmental delay?

How can I track development to be sure I notice a delay?
Participants who successfully complete this course will:
Understand how to track developmental milestones and detect delays.

Learn how they should respond when they note a developmental delay.

Gain insight into why early prevention is very import to a child's development.
Buy this Course
Course Content