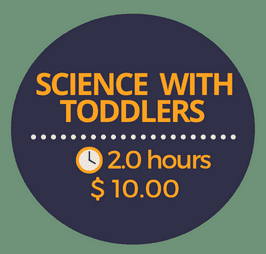 Science with Toddlers
If you are employed in a state that uses a registry to track professional development hours, you will be able to provide your registry ID (Stars, MOPID, Registry or other ECE ID#) after you have completed the quiz for the course. If you pass the quiz we will report your course completion to the state registry using the registry ID that you provide.
Science with Toddlers is all about teaching science basics to some of our smallest children. It's easy to think they are too young to learn science but there is so much they can learn! Course length – 2.0 hours.
The course helps answer the following questions:
What is the scientific process?

How can the scientific process be used with toddlers?

Are toddlers mature enough to perform and understand science experiments?

What are some good sensory bottles to use with toddlers?

What are some ways that I can do science using nature?
Participants who successfully complete this course will:
Learn how to adjust the scientific process to use with toddlers.

Understand the importance of teaching science to toddlers.

Be able to implement activities to teach science to toddlers.
Proceed To Shopping Cart