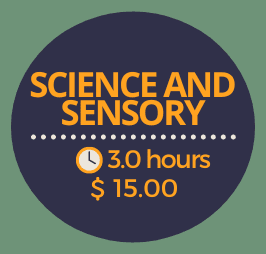 Science and Sensory
If you are employed in a state that uses a registry to track professional development hours, you will be able to provide your registry ID (Stars, MOPID, Registry or other ECE ID#) after you have completed the quiz for the course. If you pass the quiz we will report your course completion to the state registry using the registry ID that you provide.
Science and sensory are great centers to explore with experiments and hands on activities. This course explores different materials like magnets and sensory bottles. It also includes the use of weighing and measuring tools, microscopes and magnifying glasses. Guidance is given on the selection and use of materials and tools that are appropriate for your age group. Video clips demonstrate fun and educational activities to do in these centers including several great "cooking" projects which teach more than just cooking skills. They also teach science and math. Course length – 3.0 hours.
The course answers the following questions:
What types of materials should be in the science center?

What types of materials should be in the sensory center?

When should the two centers be combined and when should they be separated?

What lessons are we trying to teach in these centers?

How is cooking tied into science and sensory?

How can I do cooking projects without a stove and refrigerator?

What are some great cooking projects for MY age group?
Participants who complete the course will
Be able to demonstrate knowledge of developmentally appropriate materials for science and sensory centers and the advantages and disadvantages of combining the centers or keeping them separate.

Be prepared to utilize this knowledge to develop and design lesson plans that will be age appropriate for their particular classroom that will make the most of those centers.

Plan and implement cooking projects for their classrooms that are fun and teachable times.
Proceed To Shopping Cart