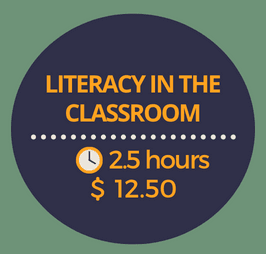 Literacy in the Classroom
If you are employed in a state that uses a registry to track professional development hours, you will be able to provide your registry ID (Stars, MOPID, Registry or other ECE ID#) after you have completed the quiz for the course. If you pass the quiz we will report your course completion to the state registry using the registry ID that you provide.
Literacy in the Classroom emphasizes the importance of having words and invitations to read all over your classroom. Reading isn't just for the class library and circle time. Course length – 2.5 hours.
The course helps answer the following questions:
What is early childhood literacy and does it apply to infants and toddlers?

What do early childhood literacy statistics show us about it's importance?

How important is diversity in early childhood literacy?

How available is diversity in early childhood literacy?

What are the best ways to immerse the classroom in words?
Participants who successfully complete this course will:
Understand the statistics on how few children's books feature black and brown characters.

Know the meaning and importance of early literacy.

Learn multiple ways to implement literacy into every area of their classrooms.
Proceed To Shopping Cart