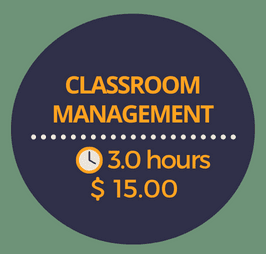 Classroom Management
If you are employed in a state that uses a registry to track professional development hours, you will be able to provide your registry ID (Stars, MOPID, Registry or other ECE ID#) after you have completed the quiz for the course. If you pass the quiz we will report your course completion to the state registry using the registry ID that you provide.
This course is about the nuts and bolts of setting up your classroom and making it work. It covers subjects like furniture arrangement, visual schedules, planning and adapting curriculum and behavior management. There are lots of great printable resources to help you with your own classroom management. Course length – 3.0 hours.
The course helps answer the following questions:
What are some things to avoid when arranging the furniture in my classroom?

What are some budget friendly ways to make my classroom look well decorated?

What is the effect of clutter in the classroom?

What is the best way to label things in the room?

What are some things to consider when adapting curriculum to my classroom?

How can classroom management help with behavior management?
Participants who successfully complete this course will:
Understand some key things to consider when arranging the furnishings in their classroom.

Be ready to implement visual schedules.

Understand the basics of circle time success.

Gain important understanding of how to connect families to the classroom.
Proceed To Shopping Cart