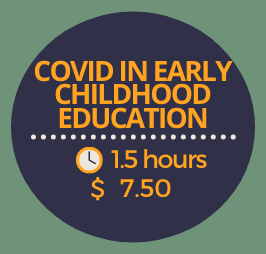 COVID in Early Childhood Education
If you are employed in a state that uses a registry to track professional development hours, you will be able to provide your registry ID (Stars, MOPID, Registry or other ECE ID#) after you have completed the quiz for the course. If you pass the quiz we will report your course completion to the state registry using the registry ID that you provide.
COVID 19 has brought a lot of changes to early childhood education. Many centers and home cares have closed either temporarily or permanently. It has been a difficult time for everyone. This course provides detailed approaches and suggestions for dealing with all of the extra responsibilities that have come with COVID 19. Course length – 1.5 hours.
This course does not meet the Pennsylvania 10 hour Health and Safety course required by Department of Human Services. In addition, some of the information included in this course may or may not reflect current Health and Safety standards in Pennsylvania.
The course helps answer the following questions:
How should I handle drop off and pick up?

Should I allow visitors inside the center?

How can I keep the room and materials clean?

What ages need to wear masks?

What are the challenges of virtual teaching/learning?

What sensory materials can I use in these circumstances?

What are some books I can use to help the children deal with this unprecedented time?
Participants who successfully complete this course will:
Understand how to keep classroom materials clean and separate.

Comprehend the importance of maintaining social distancing within the center.

Be prepared to help the children understand why these new policies are needed.
Proceed To Shopping Cart