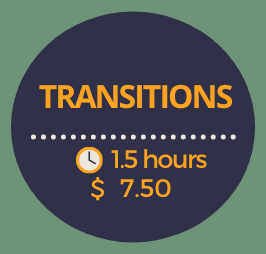 Transitions
Transitions can be the toughest times throughout the day for teachers and children alike! We need to understand exactly why transitions are so difficult and how we can make these times work better for everyone involved. Children are extremely sensitive to change and we need to be sensitive to their needs. Course Length – 1.5 hours.
The course helps answer the following questions:
What is a transition?

Why are transitions difficult for teachers?

Why are transitions difficult for children?

How can we help children with special needs that have a particularly hard time with transitions?

What are some tips, methods and techniques we can use to make transitions smoother?
Desired Outcomes:
Participants will understand what transitions are.

Participants will comprehend what makes transitions difficult for children.

Participants will obtain multiple methods and techniques for making transitions smoother.
Buy this Course