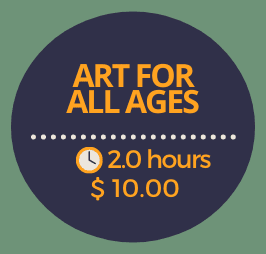 Art For All Ages
If you are employed in a state that uses a registry to track professional development hours, you will be able to provide your registry ID (Stars, MOPID, Registry or other ECE ID#) after you have completed the quiz for the course. If you pass the quiz we will report your course completion to the state registry using the registry ID that you provide.
This course ventures into the importance and application of art in early childhood education. Course length – 2.0 hours.
It helps answer the following questions:
What are the key aspects of art in early childhood?

What are the primary benefits to children who create art in early childhood?

Why, for the benefit of your children, do you need to go beyond just providing a few essentials like crayons, markers and paper?

How can I best help the children in my care express themselves through art?

Why should art be experienced at times other than "art time"?

What are some "out of the box" art ideas I can use with my class?
Participants who successfully complete this course will:
Learn how children of all ages can create art and grow through artistic expression.

Be prepared to teach multiple methods of art to their age range.

Be able to explain the benefits of art in early childhood.
Proceed To Shopping Cart