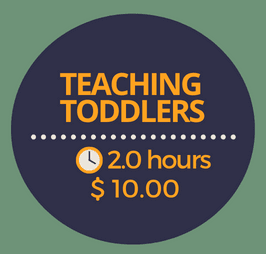 Teaching Toddlers
If you are employed in a state that uses a registry to track professional development hours, you will be able to provide your registry ID (Stars, MOPID, Registry or other ECE ID#) after you have completed the quiz for the course. If you pass the quiz we will report your course completion to the state registry using the registry ID that you provide.
Teaching Toddlers will enable the teacher of Toddlers to have a better understanding of this fun and challenging age group! Course length – 3.0 hours.
The course helps answer the following questions:
What are some of the key milestones that Toddlers need to attain?

How can I teach toddlers self-help skills?

What are the best potty-training tips?

How can I be sure my toddlers are getting enough gross motor activity?

How can I teach toddlers manners and respect?
Participants who successfully complete this course will:
Obtain familiarity with common milestones for this age group.

Understand common techniques for potty training toddlers.

Learn techniques to teach toddlers self-help skills.
Proceed To Shopping Cart