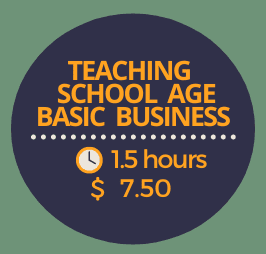 Teaching School Age Basic Business
If you are employed in a state that uses a registry to track professional development hours, you will be able to provide your registry ID (Stars, MOPID, Registry or other ECE ID#) after you have completed the quiz for the course. If you pass the quiz we will report your course completion to the state registry using the registry ID that you provide.
The course focuses on giving school age children a basic understanding of business concepts. Course length – 1.5 hours.
It helps answer the following questions:
Why do school age children need to learn about business?

What kinds of business should they learn about?

How do you teach children about business?

How can you include things like manners and money management in these lessons?
Participants who successfully complete this course will:
Understand why it is beneficial to the children to teach them business concepts.

Understand the three types of businesses children can set up in the classroom.

Have the tools needed to guide children through the process of setting up their own businesses.
Proceed To Shopping Cart