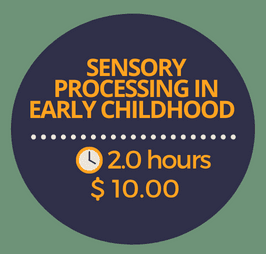 Sensory Processing in Early Childhood
If you are employed in a state that uses a registry to track professional development hours, you will be able to provide your registry ID (Stars, MOPID, Registry or other ECE ID#) after you have completed the quiz for the course. If you pass the quiz we will report your course completion to the state registry using the registry ID that you provide.
What could Sensory Processing Disorder look like in the Early Childhood setting? Sensory Processing is the ability of the central nervous system to organize and process input from different sensory channels to perform purposeful activities. This course will cover the basic knowledge needed to identify sensory challenges that some young children may face in early childhood. Course length – 2.0 hours.
This course will help answer the following questions:
What are the seven senses?

What do each of these seven senses do?

What is sensory processing disorder?

How can sensory processing disorder affect children?

What behaviors can be seen in children with SPD?

What activities can help children with SPD?

What environmental changes can help children with SPD?
Participants who successfully complete this course will:
Understand what Sensory Processing Disorder is.

Be able to demonstrate knowledge of seven senses and how they affect children.

Understand environmental changes that can help children with SPD.

Learn activities that can help children with SPD.
Proceed To Shopping Cart