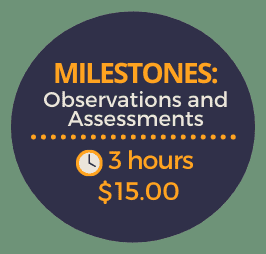 Milestones: Observations and Assessments
If you are employed in a state that uses a registry to track professional development hours, you will be able to provide your registry ID (Stars, MOPID, Registry or other ECE ID#) after you have completed the quiz for the course. If you pass the quiz we will report your course completion to the state registry using the registry ID that you provide.
This course introduces three possible tools to use when performing observations and screenings. Ages and Stages, which has screenings done primarily by the parents; Brigance, where the screenings are done primarily by a teacher or other staff member; or designing and creating a custom screening tool that is specific to the children you teach. A detailed description is provided of a child's typical progression through milestones from birth through age five is then described. Course length  – 3.0 hours.
The course answers the following questions:
What are the most common methods for performing screenings?

Why is it important that I perform accurate and timely screenings of the children in my care?

How are the results of screenings utilized when developing curriculum and lesson plans?

How do we follow up with parents with the results of screenings?

Is there such a thing as "normal" for reaching milestones?

What are the milestones for MY age group?

What should I do if a child isn't reaching milestones?
Participants who successfully complete this course will be able to:
Demonstrate an understanding of why observations and assessments are important.

Demonstrate an ability to follow up on assessment results.

Demonstrate an understanding of the progression of milestones from birth to age five.
Proceed To Shopping Cart