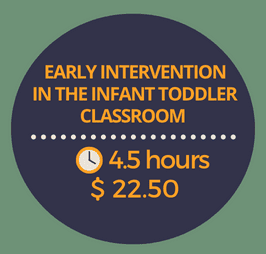 Early Intervention in the Infant Toddler Classroom
If you are employed in a state that uses a registry to track professional development hours, you will be able to provide your registry ID (Stars, MOPID, Registry or other ECE ID#) after you have completed the quiz for the course. If you pass the quiz we will report your course completion to the state registry using the registry ID that you provide.
This course elaborates on topics specifically for infants and toddlers related to typical and atypical challenging behaviors, understanding developmental "red flags", observations, connecting with and partnering with families, and goal setting in the classroom! Course length – 4.5 hours.
It helps answer the following questions:
Why are so many children being expelled from early childhood and how can we help?

What kinds of assessment and observation tools are available for early childhood?

How do I know which tools are right for my class?

How do I know whether a challenging behavior is developmentally appropriate or not?

How do I approach a parent or caregiver about a concern I have about their child?
Participants who successfully complete this course will:
Understand typical vs. atypical behaviors for infants and toddlers.

Learn strategies to help manage challenging behaviors.

Learn how to create meaningful observations.

Learn techniques to partner with families.

Learn who to contact for early intervention and behavioral supports.
Proceed To Shopping Cart