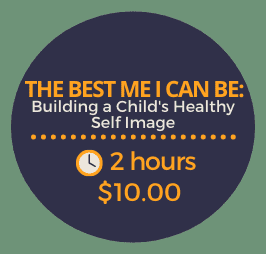 The Best Me I Can Be: Building a Child's Healthy Self Image
If you are employed in a state that uses a registry to track professional development hours, you will be able to provide your registry ID (Stars, MOPID, Registry or other ECE ID#) after you have completed the quiz for the course. If you pass the quiz we will report your course completion to the state registry using the registry ID that you provide.
This course addresses your role in the vital development of a child's healthy self-image. It's purpose is to enable you to encourage that development in each child in your care. This includes building a child's self confidence, social skills, emotional maturity and emotional control. It also addresses teaching a child about physical health and the importance of a healthy diet and exercise. It includes sections on "Self love", "I know the parts of my body!", "My body, my choice.", "I want a healthy body.", "My emotions." And "Me and My Friends". The course has printable resources to help you implement the things you will learn! Course length – 2.0 hours
The course helps answer the following questions:
How can I help children develop self confidence?

How can I encourage the development of social maturity and skills in young children?

How can I teach children about their emotions and emotional control?

What is the best way to teach children their body parts?

Are we finished teaching body parts when they are toddlers?

How do I talk to them about keeping secrets?

Should children feel obligated to give adults a hug?

How do I encourage young children to engage in taking care of their own health?

What is the best way to help children include others who may be "different"?
Participants who successfully complete this course will:
Understand the importance of teaching children to understand, love and respect themselves.

Be prepared to teach children to understand and embrace diversity of all kinds.

Learn how to guide children in making and keeping friendships with kindness and inclusion.
Proceed To Shopping Cart