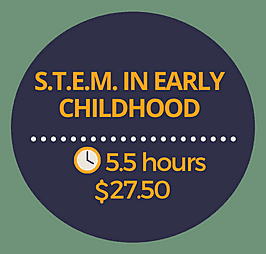 S.T.E.M. in Early Childhood
This course is replacing the original four part S.T.E.M. course series. The original S.T.E.M. courses will remain on the site until 3/1/22 so that customers who have already purchased them will have time to complete them. Contact us if you have already purchased part of the original S.T.E.M. series and would like to purchase the remaining courses.  We will provide you the password to access to the remaining courses. 
If you are employed in a state that uses a registry to track professional development hours, you will be able to provide your registry ID (Stars, MOPID, Registry or other ECE ID#) after you have completed the quiz for the course. If you pass the quiz we will report your course completion to the state registry using the registry ID that you provide.
This course covers all four parts of S.T.E.M. It discusses science, technology, engineering and math and how you can incorporate them in the early childhood environment. Each of the four elements of S.T.E.M. are covered in depth including suggested activities that you can do with the children in your care. Course length – 5.5 hours.
The course helps answer the following questions:
How can the scientific method be used in early childhood education?

How can I incorporate science into other areas of learning?

What is technology in early childhood?

What are some examples of simple machines in early childhood?

What are some methods that you can utilize to help children develop basic engineering skills?

How can we teach early math concepts to our youngest children?
Participants who successfully complete this course will:
Understand the importance of S.T.E.M. in early childhood.

Be able to do several activities to teach technology in early childhood.

Comprehend the meaning of engineering in early childhood.

Understand the various elements that make up early math skills.
Proceed To Shopping Cart