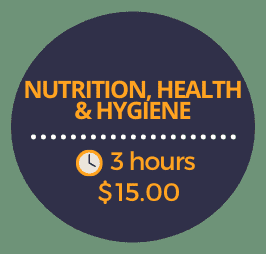 Nutrition, Health and Hygiene
This course covers many aspects of nutrition and health for children from the perspective of the 5-2-1-0 initiative. They recommend at least 5 fruits and veggies per day, less than 2 hours of screen time daily, at least one hour of physical exercise per day and zero sugary drinks for children. We also discuss specific exercises for crossing the midline and yoga with children. For the hygiene portion we cover hand washing, germs and covering your cough. This course has a dozen printable resources including file folder games and recipes!  Course is great for toddler through school age.
Course Length – 3.0 hours.
The course helps answer the following questions:
Why do the children need so many fruits and vegetables?

What are some ways to get them to try new foods?

What is the problem with screen time?

What are midline exercises and why are they important?

How can yoga help children?

How can I help children understand how germs spread?
Participants who successfully complete this course will:
Understand the 5-2-1-0 concept and what each number means.

Gain knowledge of ways to teach children proper social hygiene.

Comprehend the importance of gross motor in early childhood.
Buy this Course