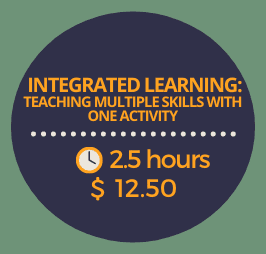 Integrated Learning: Teaching Multiple Skills with One Activity
If you are employed in a state that uses a registry to track professional development hours, you will be able to provide your registry ID (Stars, MOPID, Registry or other ECE ID#) after you have completed the quiz for the course. If you pass the quiz we will report your course completion to the state registry using the registry ID that you provide.
This course touches on the fact that learning through play is essential. Research has shown that this is the way children learn best. For this reason, when we do choose to do an activity, we need to make the most of it.
Course Length – 2.5 hours.
The course helps answer the questions:
Is learning through play really important?

How can I teach math and science in the same activity?

How can I teach the same activity to different ages?

How can I do these activities with a very small budget?
Participants who successfully complete this course will:
Understanding of the importance of learning through play.

Demonstrate the ability to teach multiple skills with one, simple activity.

Comprehend the possibilities available with little budget or materials.
Proceed To Shopping Cart
Course Content