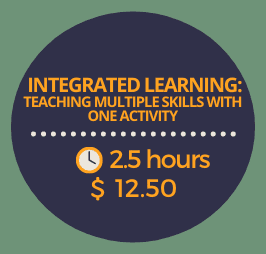 Integrated Learning: Teaching Multiple Skills with One Activity
This course touches on the fact that learning through play is essential. Research has shown that this is the way children learn best. For this reason, when we do choose to do an activity, we need to make the most of it.
Course Length – 2.5 hours.
The course helps answer the questions:
Is learning through play really important?

How can I teach math and science in the same activity?

How can I teach the same activity to different ages?

How can I do these activities with a very small budget?
Participants who successfully complete this course will:
Understanding of the importance of learning through play.

Demonstrate the ability to teach multiple skills with one, simple activity.

Comprehend the possibilities available with little budget or materials.
Buy this Course
Course Content