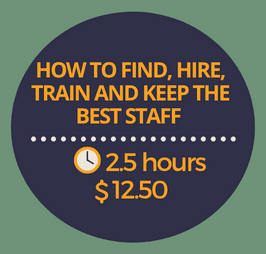 How to Find, Hire, Train and Keep the Best Staff
If you are employed in a state that uses a registry to track professional development hours, you will be able to provide your registry ID (Stars, MOPID, Registry or other ECE ID#) after you have completed the quiz for the course. If you pass the quiz we will report your course completion to the state registry using the registry ID that you provide.
This course is everything you need to know about finding good staff, interviewing and hiring the right ones, training them well and how to maintain your staff. Course Length – 2.5 hours.
The course helps answer the following questions:
How do I make my center appealing to perspective hires?

Where do I look when I need to find people to interview?

What is the best way to interview possible new hires?

What information do I need to give them and get from them?

How can I put together a great employee handbook?

How do I keep staff members happy once I have hired them?
Participants will:
Be confident in their ability to find good prospects and interview well when they need to hire new staff.

Gain the skills needed to properly give new staff orientation and training before putting them in a classroom.

Possess the skills and knowledge to maintain an encouraged and engaged staff.
Proceed To Shopping Cart