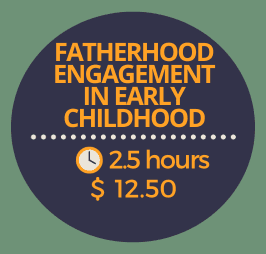 Fatherhood Engagement in Early Childhood
If you are employed in a state that uses a registry to track professional development hours, you will be able to provide your registry ID (Stars, MOPID, Registry or other ECE ID#) after you have completed the quiz for the course. If you pass the quiz we will report your course completion to the state registry using the registry ID that you provide.
The purpose of this course is to view early childhood development through a fatherhood lens. The course will cover facts about fatherhood engagement and outcomes for children related to fatherhood. Course length – 2.5 hours.
It will help answer the following questions:
How does father absence affect homelessness rates, suicide rates, and behavior disorders?

Are children with an absent father more likely to drop out of school, serve prison time, or live in poverty?

What are the positive effects of having the child's father involved?

What can I do to get fathers more involved in my center/classroom?

How can I make my center/classroom more father-friendly?
Participants who successfully complete this course will:
Learn definitions and an overview of the impact of fatherhood in early childhood.

Be able to discuss the impacts of fatherhood in early childhood.

Be able to discuss the impacts of fatherhood absence in early childhood.

Understand how the role of fatherhood impacts education, life choices, and health.

Reflect on how father involvement can be brought to the forefront of their programs and how to support families experiencing father absence.
Proceed To Shopping Cart