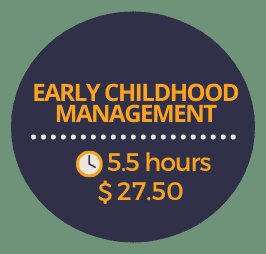 Early Childhood Management
If you are employed in a state that uses a registry to track professional development hours, you will be able to provide your registry ID (Stars, MOPID, Registry or other ECE ID#) after you have completed the quiz for the course. If you pass the quiz we will report your course completion to the state registry using the registry ID that you provide.
This course is geared specifically towards management such as owners and directors. However, anyone can take advantage of the valuable information regarding facility tours, orientation, checking children in and out, staffing needs, professional development, storing and dispensing medication, emergency drills, safety, family involvement and community involvement.
This course is filled with information and printable forms to help you be more organized and streamlined with your work. In order to make this management course all inclusive, there is material from our courses "Encouraging Family and Community Involvement: Bonus, Encouraging Each Other" and "Safety and Basic First Aid". Course Length – 5.5 hours.
This course helps answer the questions:
What is the best way to provide customer tours of my facility?

Should I conduct an orientation with new families and if so, what are some things to include?

What are some common rules and best practices for checking children in and out?

What are some best practices for hiring and retaining quality staff?

What is the best way to choose professional development training for my staff?

What are best practices for storing and dispensing medication to children?

How do I conduct emergency drills and how do I keep records of them?

What about safety?  There are so many areas of safety to address.

How can I more effectively encourage my families to be involved with our child care and education program?

How can I obtain more involvement from community organizations?
Participants who successfully complete this course will:
Understand the importance of preparing for and giving tours properly.

Analyze their facility's safety practices and where they may need adjustments

Learn ways to support, encourage and maintain their staff.
Proceed To Shopping Cart