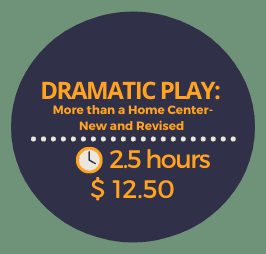 Dramatic Play: More Than a Home Center
If you are employed in a state that uses a registry to track professional development hours, you will be able to provide your registry ID (Stars, MOPID, Registry or other ECE ID#) after you have completed the quiz for the course. If you pass the quiz we will report your course completion to the state registry using the registry ID that you provide.
Dramatic play centers are a favorite among many children. This course explores how to make it more than just a "home center". With the right tools, every child's personality, character and imagination can be stretched in ways they never dreamed of. Theme boxes are one of the best tools to use with dramatic play. This course includes many ideas for theme boxes with details to help get you started developing your own. Course length – 2.5 hours.
The course answers the following questions:
What types of things should be in the dramatic play center?

How does pretending to be someone else help a child?

How can I encourage shy children to overcome shyness and grow creatively, intellectually and emotionally using this center?

How can I encourage all of the children to spend time in dramatic play?

What are theme boxes?

How can theme boxes help my classroom and center?

Can I put together theme boxes with a small budget?

What are some ideas for a variety of theme boxes?
Participants who successfully complete this course will be able to:
Demonstrate an understanding that the dramatic play center is not just a home center but rather a land of imagination.

Plan lessons that will help students release thoughts, feelings and emotions through dramatic play.

Analyze the possible uses of theme boxes in dramatic play and how they can be used to teach in a variety of ways.
Proceed To Shopping Cart