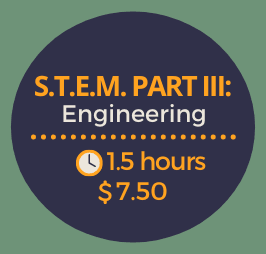 S.T.E.M. Part III: Engineering
The course is the third in our four-part series on S.T.E.M. Part three focuses on engineering in early childhood. We explore what engineering in early childhood is and how to implement it in the classroom. There are many examples of activities you can do with the children in your care, some with videos. We discuss teaching children how to follow directions as well as empowering them to figure things out on their own. Course length – 1.5 hours.
The course answers the following questions:
What makes teaching age appropriate engineering concepts different from teaching simple concepts like building with blocks?

Should all engineering activities be free choice and open ended?

What are some methods that you can utilize to help children develop basic engineering skills?

What are the markers of a great S.T.E.M. activity?

What are some ways to encourage the development of engineering type thinking in the classroom?

How can you empower children to see themselves as problem solvers?
Participants who successfully complete this course will:
Comprehend the meaning of engineering in early childhood.

Understand the importance of S.T.E.M. in early childhood.

Obtain the skills to do engineering activities in their classroom.
Buy this Course