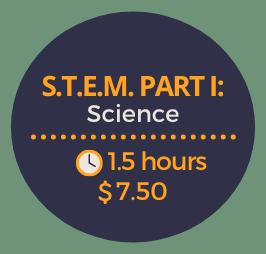 S.T.E.M. Part I: Science
This course explains the scientific method and how it can be used in early childhood education. It goes on to explain ways to incorporate other areas of learning into science such as math and literacy. It includes multiple videos with examples of great activities you can do in your center to encourage science with the children you serve. Course Length – 1.5 hours.
This course helps answer the following questions:
What is the scientific method?

How can the scientific method be used in early childhood education?

How can I incorporate science into other areas of learning?

What are some activities I can do with my children to encourage a love of science?
Participants who successfully complete this course will:
Understand the importance of including science in the classroom in a variety of ways.

Understand how to utilize the six steps of the scientific method

Develop ways to mix science with other areas of learning such as math and literacy.
Buy this Course