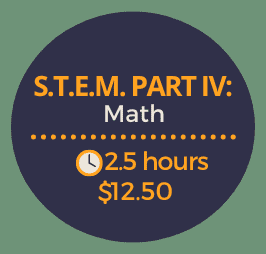 S.T.E.M. PART IV: Math
This course is the final in our four-part S.T.E.M. series. Our math course is broken up into shapes, sorting, patterning, matching, numbers and measuring. Each section explains why that skill is important and how the children can use it. There are printable file folder games, activities and other fun ways to teach math skills to various ages. Course length – 2.5 hours.
The course helps answer the following questions:
Why is math important in early childhood?

How can we teach early math concepts to our youngest children?

How can we make math fun in the classroom?

How are shapes, sorting and matching early math skills?

How can I use measuring to teach math skills in the classroom?
Participants who successfully complete this course will be able to:
Comprehend the importance of including math in their day to day classroom activities.

Obtain the skills to teach math in early childhood.

Understand the various elements that make up early math skills.
Buy this Course