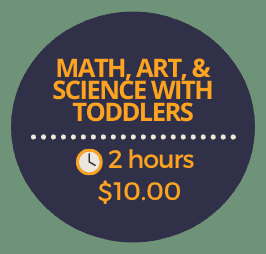 Math, Art and Science with Toddlers
If you are employed in a state that uses a registry to track professional development hours, you will be able to provide your registry ID (Stars, MOPID, Registry or other ECE ID#) after you have completed the quiz for the course. If you pass the quiz we will report your course completion to the state registry using the registry ID that you provide.
This course focuses on specific activities to teach math, art and science to toddlers! It's never too early to start teaching these concepts. The course is filled with videos showing fun ways to do hands on activities with this age group. You will finish this course with tons of new ideas for your toddler lesson plans that they will love and learn from. – 2.0 hours.
This course answers the following questions:
What are some ways that toddlers can do art activities without making a big mess?

Is it okay to make a mess sometimes?

What are some science experiments that I can do with toddlers?

How can I teach math concepts to toddlers?

What are some math concepts that toddlers can begin to grasp?

What are some other resources where I can find more material on how to teach these subjects?
Participants who successfully complete this course will:
Obtain understanding of how to teach math to toddlers.

Obtain understanding of how to teach science to toddlers.

Obtain understanding of how to teach art to toddlers.
Proceed To Shopping Cart